Ray White Invercargill Revels in Rare Chairman Elite Recognition
An accumulation of sales figures, sales numbers, market share, and customer satisfaction has seen the Invercargill team achieve the recognition level of Chairman Elite.
South Island Business Performance Manager for Ray White New Zealand, Jane Meyer, was delighted to announce the news to Ray White Invercargill's team that they had achieved the recognition level of Chairman Elite.
While the accolade is an accomplishment on its own, Business Manager John Murphy says it's a rare honour given how few offices have achieved it in the past. "Being the only agency in the South Island, one of five nationally out of 172 offices, and one of eight internationally, puts this prestigious award into perspective," he says.
John also said the achievement put a smile on the team's face when their customer satisfaction score was far higher than average. "Customer satisfaction means a lot to the team. The score places us at the top level for customer service, and the scores are given to us from the people who sell and purchase properties with our company. That means we are providing a high level of service and achieving great results for our clients."
John and the rest of the Ray White Invercargill team look forward to the next 12 months and will be working on building this result while improving their service and skill levels.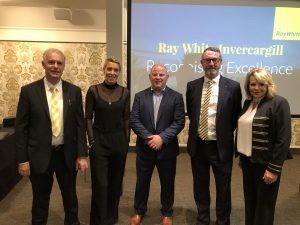 Ray White Invercargill owners Philip Brough, Anneke Kawau, Brendan Mason, John Murphy and the South Island Business Performance Manager Jane Meyer meet to celebrate the Ray White Invercargill team's prestigious Chairman Elite recognition.